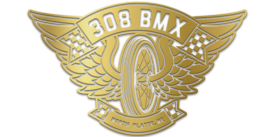 308 BMX was formed with the goal of bringing a community pump track and a sanctioned USA BMX race track to North Platte, Nebraska.
It started in 2016 with Brandon McCook, a long time lover of the sport who has been involved in BMX since childhood. This is his way of giving back to the community that welcomed him and his family since 2004. 
In September 2016, Brandon and other volunteers formed a board of directors for 308 BMX and in November, the organization officially became a 501(c)(3) non-profit.
Now jump to 2022. The City of North Platte approached 308 BMX with an alternative location that would better suit the needs of the organization as well as utilize some under used city property. The 5 acre plot that currently is home to the Happy Hound dog retreat will be the new home of 308 BMX and the community pump track. The City will work on relocating the dog park to a portion of Cody Park across the road.
In order to bring this vision to life, we need the help of donors like you. All donations are tax deductible.